PRAISE FOR CYOAKHA GRACE
"Fitted along side all of this is the soundtrack by Cyoakha Grace O'Manion, which is a fascinating blend of new age structure and sonic weirdness. The DVD release by Guerrilla Productions allows you to watch the film's 100 minutes without the voices or sounds, but just awash in the music and images. It's a surreal experience, distinctly unique, and Lovecraftian to the bone. O'Manion has captured another element so often lost in Lovecraft adaptations: the importance of music. Be it otherworldly in nature, the eerie sounds produced by and for the monsters of the void are finally given a chance to play a part with subtle effectiveness. The sounds are not recognizable, which was one of the stipulations placed upon O'Manion by the director. Within some of the production notes it's revealed that Edward Martin III told O'Manion he did not want the music to come from any identifiable source or instrument. Again, the understanding of the source material ends up being invaluable, lending heavily to the creation of this animatic world's believability."
-The Horror Channel
"Cyo, Krystov, and the rest of the new SF version of the Blind put on a really good show last night in Berkeley at the Starry Plough, an Irish pub that primarily hosts traditional Celtic music. In fact they were opening for Tempest, a well known Celtic rock band that got there start at the Starry Plough.
Cyo's new band includes a very dynamic and versatile musician, Kungha, who played an electric 8-string (I believe) cello/stand-up bass, fretless bass guitar, and lute. He stands probably about 6' 4" tall and is of muscular build with long blond hair. He looks like someone from a sword and sorcery movie. His musicianship was suburb. He used his instruments in both a percussive and harmonic/chordal way. Kungha and new multi-percussionist, Roland, have added a very strong musical and visual strength to the Blind. Anyone who has seen Cyo live knows the presence she commands on stage. Krystov also has a strong stage presence. This set of four musicians together were really enjoyable to watch. However, it's their music that really captures you. All of the arrangements of the Blind songs are really stripped down in this incarnation. Most of the songs are very percussive and essential. They bring out Cyo's voice to the forefront even more than ever before. The interaction of the Kungha's bass playing and Cyo's singing reminded me a lot of Pipa and Daniel. Then with Roland's inventive percussion and Krystov's trademark and beautiful digeridoo playing it brought a new vibe to many of the Blind songs. They ended the set with "Walking in a Whirlwind". They did an especially haunting version of the song. The spare rhythms were pulsing underneath while Cyo used her DDL echo effects to multi-layer background vocals for her to sing over.
I realize that I am a bit effusive in my praise of Cyo's performances. I just really feel that she does some very creative music, is a wonderful performer, and always plays with excellent musicians." --Bill Mazur, EctoList, Guide for Eclectic Female Singers
"...And speaking of appropriate, the lush, mesmerizing soundtrack by Cyoakha Grace O'Manion of the band Land of the Blind perfectly complements Thompson's remarkable dreamscapes. Even when the primitive animation was at its most stilted, the music swept me along through the story." -- Dan Davenport, RPGnet Review
"...One of the qualities of great art is that it continues to reveal itself in subsequent viewings, that it is so rich and packed with ideas that it can't be consumed in a single sitting. If you have never read the book, you may well have many questions after viewing this film. I reckon that is a good thing. Watch it again. Read the book. Ask a Lovecraft fan what a such and such is. It's endlessly rewarding. The music is so good that it may even obscure some of the dialog now and then..." -- Gavin Smith, unfilmable.com
PRAISE FOR LAND OF THE BLIND
"Pop Music For Druids" ...The Journal
"Like exploring the dangerously enticing corridors of an off-kilter carnival at night while opiumed-up" ---Anodyne Magazine
"Like Dead Can Dance they explore unconventional sounds, experiment with Middle east-like scales & cryptically poet lyrics for a bizarre but intriguing Laurie Anderson meets the Woman's Bulgarian Choir. Genuine & unpretentious." ---WXFN, Boston
"These people have got to be possibly my favorite band in the whole Known Universe. Land of the Blind is a weird and eclectic batch of music, something odd and entrancing and powerful and glorious and, well, there's no other way to describe them except listen! Their live shows are just awesome. Right now, they're based in San Francisco, but they often play in the Pacific Northwest." --Petting Zoo www.petting-zoo.org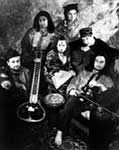 PRAISE FOR AZIGZA
"the women's answer to Robert Plant" - progfreaks.com
"Loud and electric like a thunderstorm, even hailing [From San Francisco], the rhythmically esoteric Azigza brings new meaning to world beat in an "otherworldly" sort of way. Complex drum beats weave across elaborate time signatures like DNA clusters on a music molecule. Whining....scary, Fretless bass, electric guitar, drums, congas, dumbeck, 6 string electric violin, cello, keyboards, you name it, they got it. ... Azigza's groove is ethereal in a concrete way. The... strings and strange percussion rhythms are fully anchored by juxtaposed rockable frame drum beats and hard rocking electric guitar. You can just about dance, to it...........in your dreams. -Fran Gray, l2/98 - Contributing writer to Rocket Magazine.
"Royally Entertaining Rockers Mix Foreign Tunes and Beats - Symphonic trance rockers, Azigza blends guitars, harp, electric violin, and all sorts of percussion instruments into a stirring whole. Eastern European, Indian and Middle eastern influences predominate as Azigza attacks their music with the Fervor of some indigenous troupe playing For the King's pleasure at the National Palace. These extremely entertaining San Fanciscans will rock your castle however royal or humble it may be." -- Artist spotlight Review ; 4/99- MPJ.com